Wholesale High Standard Sample Collection Kit Saliva Tube + Free Sample With Fast Delivery
Standard Size:42mm*16mm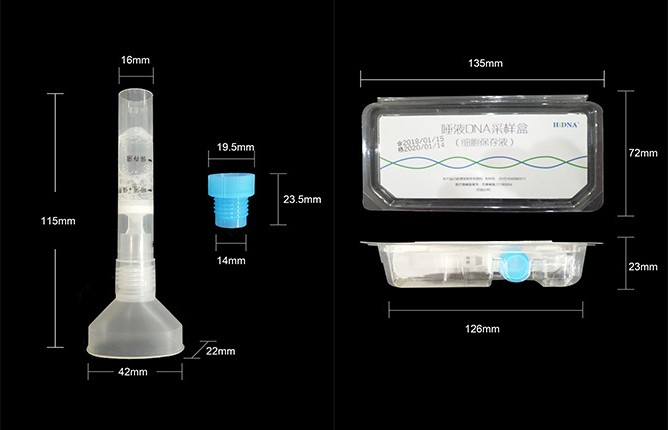 Test Procedure:
1.Rinse mouth with water 30 minutes before sampling

2.Slowly spit out saliva into the funnel until it reaches the mark of 2ml

3.Unscrew the funnel part counterclockwise

4.Twist the blue cap clockwise and shake it gently for 5 seconds to fully mix the saliva and preservation solution

5.Put the collected test tubes in biosafety packaging
Packing: Blister box packaging
Quality conditions:Avoid light at room temperature, the shelf life is 24 months
Advantage:
Fast Shipping
Wholesale Supplier
Professional knowledge
Features:
1. The collection process is painless and will not cause any damage or discomfort to the human body;
2. The collected samples can be used in various biological experiments such as enzymatic PCR and next-generation sequencing, and are widely used in the collection and storage of specimens in hospitals, scientific research institutions and families;
3. It can perfectly replace blood DNA/RNA samples, especially suitable for patients who are unwilling or unable to cooperate with blood collection.
4. ITM inactivated storage solution has the function of inactivating viruses and preventing nucleic acid degradation, which can effectively prevent leakage during transportation and accidental touch during detection;
5. Anti-unscrew tube cap design, the preservation liquid tube cap cannot be unscrewed to prevent the user from unscrewing the solution by accident.
About Us (Kangmin Medical Group)